Monsignor John M. Hyland, 81, former vicar general and a retired priest of the Diocese of Davenport, died July 21. Born May 1, 1942 in Minneapolis, Minnesota, a son of Lucille (Spaeth) and John M. Hyland, Sr., he attended St. Vincent School and Assumption High School in Davenport. He graduated from St. Ambrose College in Davenport and in 2015 was awarded the McMullen Award presented annually to individuals who embody St. Ambrose University's mission of enriching the lives of others.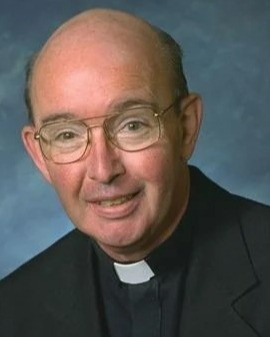 He studied theology at Mt. St. Bernard Seminary in Dubuque, Iowa, and received his MA in theology from Aquinas Institute of Theology in Dubuque. He also did graduate work in education administration at Western Illinois University in Macomb, Illinois.
On June 1, 1968, he was ordained to the priesthood by Bishop Gerald O'Keefe at Sacred Heart Cathedral in Davenport.
Then Father-Hyland was associate pastor at St. Mary of the Visitation in Ottumwa and at St. Mary in Fort Madison, both in 1968. He served as principal at St. Joseph Junior High, then coordinating principal for the Catholic school system in Fort Madison from 1969-1974. He served as principal of Aquinas High School and executive secretary of the Fort Madison Catholic School System from 1974-1990. Father Hyland served as pastor of St. Mary in Augusta from 1984-1985 and St. Joseph in Fort Madison from 1985-1990. He became pastor of St. John the Baptist in Burlington in 1990, administrator at St. Patrick in Burlington from 1994-1995, pastor of St. Paul in Burlington in 1996 and was pastor of the newly merged Ss. John & Paul Parish in Burlington from 1998-2005. In 2002 he received the title of monsignor.
Msgr. Hyland began serving as vicar general of the Diocese of Davenport in 2003. He retired from active status in 2015 but continued to serve as vicar general and Moderator of the Curia (leader of the bishop's staff) until 2016. He continued to serve the diocese by helping to supervise maintenance and housekeeping staff, accommodating guest stays and assisting student priests from Tanzania and retired priests in residence at the chancery.
Msgr. loved to watch, coach and play golf, was an avid fan of the St. Louis Cardinals, and enjoyed his family, especially his nieces and nephews.
A visitation for Msgr. Hyland will take place July 25 from 4-6 p.m. at Halligan-McCabe-DeVries Funeral Home in Davenport with a vigil service at 4 p.m. A Funeral Mass will take place July 26 at 10:30 a.m. at Holy Family Catholic Church in Davenport.
In lieu of flowers, memorials may be made to the Priest Aid Society, Notre Dame Foundation, Holy Trinity Foundation, Assumption Foundation for K-12 Catholic Schools or the Catholic Foundation for the Diocese of Davenport.